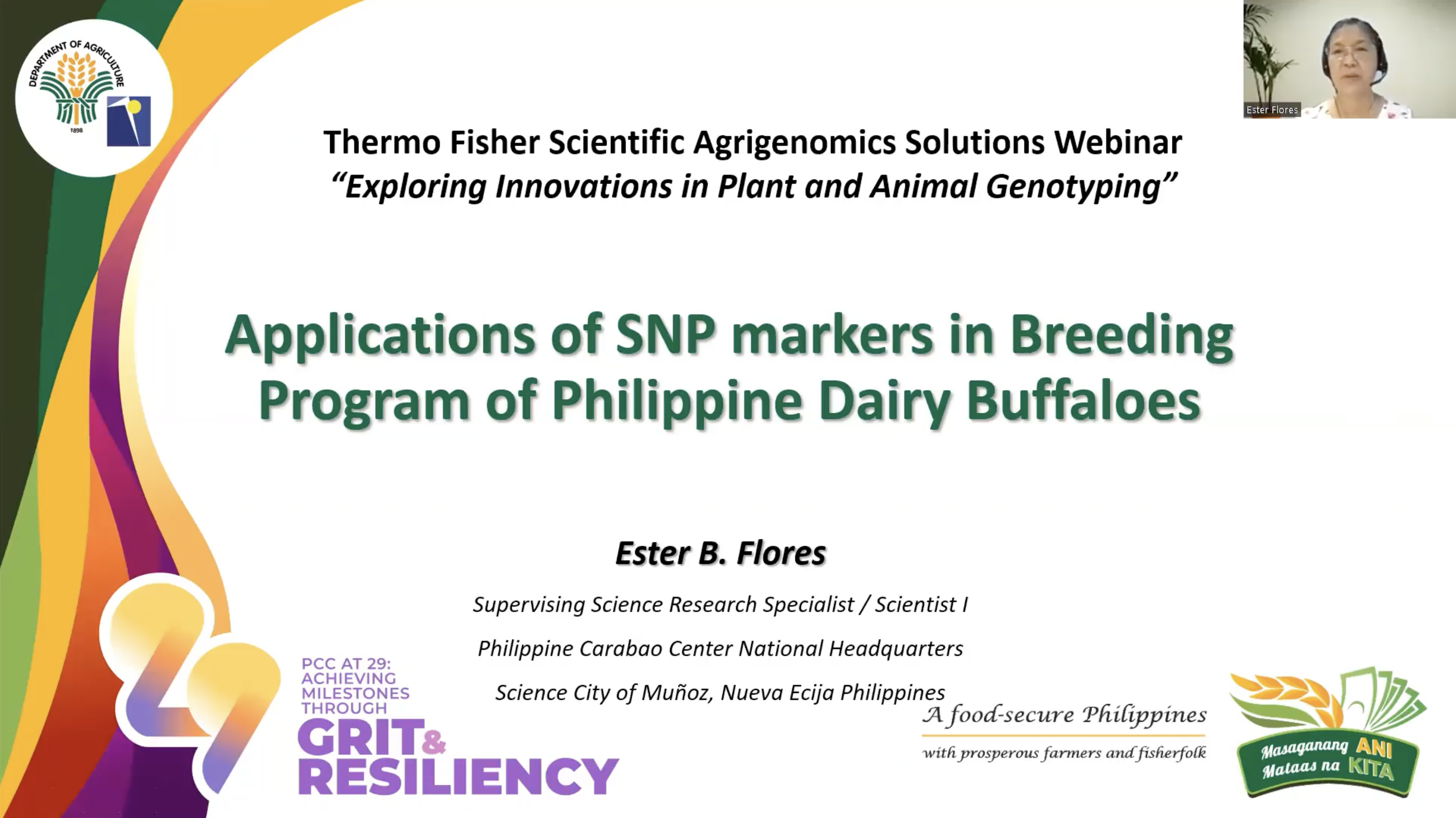 25 Apr

Application of SNP Markers in Breeding Program of Philippine Dairy Buffaloes
Agrigenomics
Application of SNP Markers in Breeding Program of Philippine Dairy Buffaloes
Abstract

Dr. Flores shares about the history of the dairy buffalo breeding program in the Philippine Carabao Center (PCC)  and how they were able to improve the rate of genetic gain through the use of Axiom microarray SNP panels. 

The utilization of SNP markers has allowed PCC to bring its breeding program up to global industry standards – with low to medium density SNP panels largely replacing microsatellites markers in marker-assisted selection (MAS) and genome wide association analysis giving more power in detection over QTL mapping. 

The initial results of genomic prediction using the 90k Axiom Buffalo Genotyping array has shown higher accuracy of genomic breeding values (GBLUP) compared to the conventional BLUP model (PBLUP). This allowed a more effective and cost-efficient method for determining and ranking selection candidates with desirable performance traits. They were also able to find significant SNP markers for milk, fat, and protein yield through genome wide association studies (GWAS) which can be further used as tools for selection in the breeding program.

Speaker

Ester B. Flores

Dr. Ester B. Flores is currently the head of the Animal Breeding and Section (ABGS) and is involved in various PCC In-house research, supervising junior researchers of ABGS in their project implementation. She is a project leader of two (2) current DOST-PCAARRD funded projects on cattle and native pig both involving development of genetic screening protocols for genetic defects and production traits. These genetic screening protocols are aimed at complementing the conventional selection for breeder animals.

Dr. Flores has significantly contributed to the establishment and implementation of a separate structured breeding program for riverine and swamp buffaloes. Her works mainly focused on the development of conventional multi-trait genetic evaluation systems and genetic testing protocols for selection of future breeding animals with increased fertility, growth rate, and meat yield and quality, which led to improved productivity of not Philippine buffaloes but also of swine.